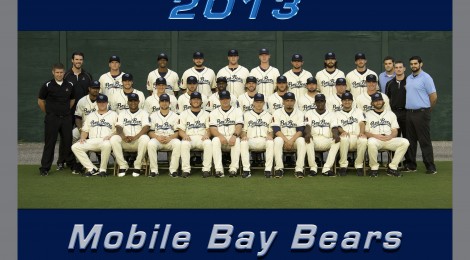 This year was great for me as a photographer because I was able to try my hand at sports photography.
Thanks to the Mobile Bay Bears for allowing me to photography the team and work on a new style of photography for me.  The entire staff was simply awesome.  Special thanks to Kyne and Ari for their generosity and guidance during the season.
The photograph below was made just prior to the final home game during the League playoff games.  I was extremely honored to have been asked to do this photo for the Bay Bears and also excited to participate in the process.
Also, a special thanks to Mobile Bay Bears Team Photographer Chip English.  Chip is a professional that truly enjoys and knows, not only photography, but the sport and art of baseball.  Because of this special knowledge, he has captured the normal flow of the game, and those special moments that will forever be etched in Mobile Bay Bears history.  For a hobbyist like me, it was a joy to watch him work his craft.  Thanks Chip…hope I didn't get in your way.
Can't wait for next season…
Enjoy…
Click on the image below for a larger view.