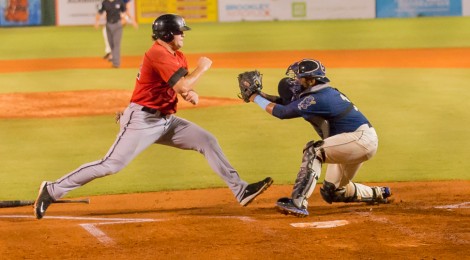 One of the most bizarre plays I have photographed this year took place on Wednesday, September 11, 2013 at Hank Aaron Stadium where the Mobile Bay Bears were hosting the Birmingham Barons in Game 1 of the Southern League Championship Series in Mobile, AL.
Although I took more than four frames, posted below, these are plenty to tell the story.  The umpire appeared to call the runner "Out" after the collision at home plate.  Then the runner actually kicked the ball out of the hand of the catcher…where the ump then reversed himself and called the runner safe.  The catcher, Mobile Bay Bears #14 Rossmel Perez, quickly picked up the ball and tagged the runner.
Why, you ask, would the catcher tag the runner after the ump had called him Safe.  If you look at the pictures, the runner NEVER touched home plate.  So picking up the dropped ball and tagging the runner was the right thing to do.  Trouble was the ump was so focused on watching the collision and tag that he never looked to see if the runner actually stepped on home plate.
It's one thing to miss calls during the regular season with three umps, but during a Championship Game and 4 Blues on the Field…as Deion Sanders says, "C'Mon Man".
Click on the images below for a larger view.