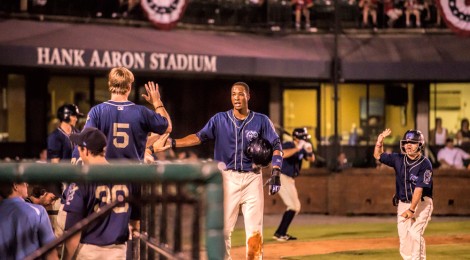 A lot of times I will actually make a photograph and leave more of the image in view and then crop it in post production.  At this point in my learning about photography, I have not mastered the art of composition, placement and cropping all in the viewfinder when no post is needed the way some master photographers teach as their technique.
Sometimes, I will look at a scene and know there is something there, but in baseball, or any other sport, you sometimes need to make quick decisions to shoot or not to shoot.  This point was made several times in a video I watched on Kelby Training that featured Jay Maisel.
After reviewing my images from an evening of baseball, I ran across the photo you see below.  Look closely and you will see several different stories being told when viewed as a whole. While I will never compare myself, or my work anywhere close to that of the master Norman Rockwell, I did see a few things I believe he would notice as well.
I like it so much I have going to have it put on metal for a place in my office.  A great reminder of how special the Mobile Bay Bears season has been to me.
Enjoy…
Click on the image below for a larger view