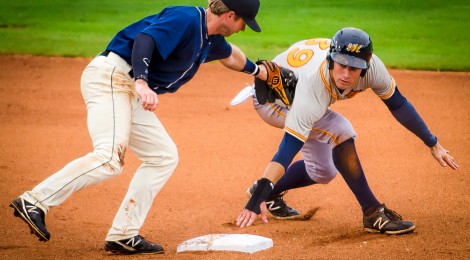 I know that referees from all sports are often criticized for their calls…and after all, they are only human and make mistakes.  And rarely will you see a ref change his/her mind after the call has been made.  Whether it is pride or just setting a bad precedent for future calls…the call is their story and they are sticking to it.
A good baseball infielder will always continue a tag until the play has fully stopped.  In most cases, a runner from first to second will sometimes slide past the base and allow a secondary tag in case the first one was late.  This photo is a prime example.
Mobile Bay Bears 2nd Baseman, #5 Mike Freeman, kept the tag on the player and caught the player when the runner pulled his hand away for the bag.  His effort for this outstanding play? "Blue" missed the call and said SAFE!
But as legendary radio announcer Paul Harvey used to say…"And now, you now the rest of the story".
The Mobile Bay Bears are an AA minor league affiliate of the MLB Arizona Diamondbacks.
Click on the image below for a larger view