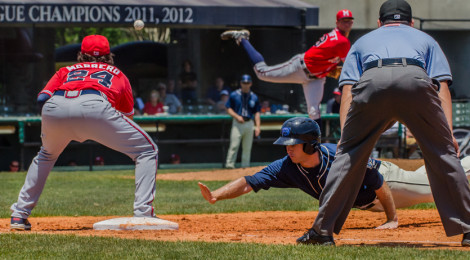 Almost  got nailed  by two balls at the ball park yesterday.
First, was a foul ball down the first base line that cut through the first two rows on seats on the ground level.  Funny thing was I saw it coming through the lens.  I looked up in time to duck, but the kid in me wanted to drop the camera and catch the ball.  Glad my inner man over ruled that notation.
Second, (1 picture below) was a errant throw from the third baseman to first.  I was perfectly lined up with the ball heading for my camera but I just kept my finger on the shutter.
You can tell by the look on the players faces they thought I was going to be what stopped the ball.  Luckily, it hit just a little to my left…clearly seen in the picture.  I love the third baseman's reaction to his throw as the score was tied in the bottom on the 9th.
Not one of my best shots, but was certainly one of the most exciting.  Can't wait for the next game.
Play Ball!!!!
Click on the pictures below to see a larger image.