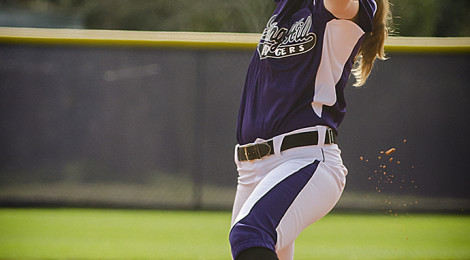 I photographed my first softball game this afternoon.  Other than having to shoot through chain-link fence it was a great experience.  The action was fast-paced, energetic and a great learning experience for me as I continue my journey into sports photography.
Trying to find the optimal vantage point to photography the players was the first challenge.  The field is totally wrapped in chain link fence, so, there was no clear path between the camera lens and the player.  I must have looked very strange sitting in the wet grass with my camera lens pointed through a hole in the fence.  But, you do what you must in order to get the shot.
The photo below is Spring Hill College Lady Badger, Caroline Segrera, a freshman from Baton Rouge, LA.  For more information about Lady Badger Softball please click on the following link:  Spring Hill College Lady Badger Softball.
Click on the photo below to see an expanded view.