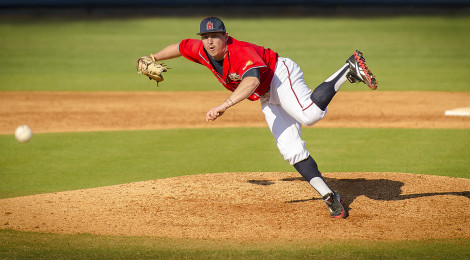 Having been a pitcher when I was in school, there has always been a magic associated with how the player on the mound goes about his work.  All great pitchers have a routine…just like any other sport.  A pitchers wind-up and delivery is just as unique as their fingerprint…no two are exactly alike.
My hero's when I was growing up all had their special style:  Juan Marichal, Sandy Kaufax, Bob Gibson and Whitey Ford.  And more recently, Tom Glavine, Greg Maddux, Randy Johnson, Phil Niekro and Nolan Ryan.
I saw a pitcher today for the USA Jags that reminded me of the pitchers I mentioned above…he has his own style and puts it all on the line with every pitch.
The photo below is of #8 Kyle Bartsch.
Click on the photo below for an expanded view.